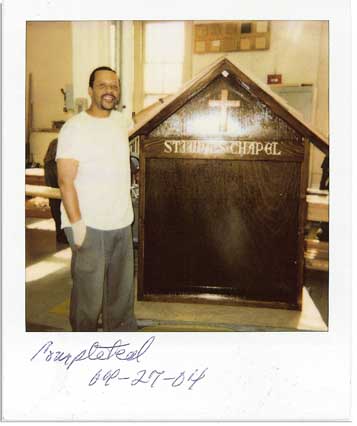 Darryl Best was doing some work at the Bronx home of his uncle, fixing an awning to make some extra cash, when a Federal Express truck pulled up with a delivery.
Best, an African American man and father of five children, signed for a package that had the correct address for his uncle-in-law, but when he examined the package more closely, he found it was addressed to a "Linda Williams." Best knew the Williams's indeed lived next door, but there was no "Linda," so he hurried down the stairs to get the driver's attention. It was then that the police nabbed him and charged him with conspiracy to traffic in cocaine. Best never opened the package.

On October 23, 2001, Darryl Best was convicted of a class A felony under New York's Rockefeller drug laws. Mandatory minimum sentencing will require Best to serve 15 years to life in prison. He will not be eligible for parole until the year 2016.

"The police knew there were drugs in the package," says Best's wife, Wanda, who has been working with the New York advocacy group, Mothers of the Disappeared, to bring attention to her husband's case. "Whoever signed for the package is who they were going to arrest."

The package was sent priority overnight, which guarantees delivery by 10:00 AM. The controlled delivery took place at 1:10 PM, almost 3 hours late. Someone expecting this package would have been at the address early since FedEx delivery starts at 8:00 AM. Best arrived at his uncles house at about 11:30.

Police had a no-knock warrant to search the premises, but they never went in to check for other drugs, cash or drug paraphernalia. Wanda Best argues that the arresting detective lied under oath when he claimed that Darryl had a key to his in-law's Bronx home, and says the police failed to produce any evidence to prove his assertion.

Furthermore, police found no identification that connected Best to the Bronx location, because his residence is, in fact, on Manhattan's Lower East Side.

When the defense asked at trial why no audio-visual recordings whatsoever were made of the arrest, detectives said it was a "judgment call." In their experience, they claimed, drug dealers send packages to addresses and intercept them before they arrive at their final destination.

"In our opinion," says Wanda Best, "whoever sent the drugs must have singled out my uncle, because he's a 70-year-old man living alone, and the reason they used the next door neighbor's name is because their name was on the mailbox."

The package contained 16 ounces of cocaine. But all of the evidence, insists Best, led away from her husband. "At the trial, everyone, even the court officers, thought we would win. It was so clear he was innocent."

Watch the Kunstler Fund video.